"WEB THERAPY": FAKTEN - INHALT - EPISODEN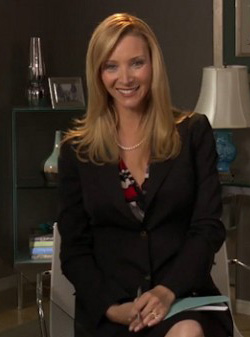 Web Therapy läuft seit 2008 auf der amerikanischen Videoplattform L/Studio.com als improvisierte Komödie in der fiktive Psychoterapiesitzungen gezeigt werden. Die Folgen dauern zwischen 5 und 15 Minuten. Die Serie gewann einige Awards, unter anderem einen "Webby". 2010 kündigte Showtime an die Serie ins Fernsehprogramm aufzunehmen, wozu neue Szenen gedreht wurden um die Folgen auf jeweils 22 Minuten zu bringen. Die Serie lebt vor allem auch durch die vielen Gastauftritte von Stars, die sich von Fiona terapieren lassen, unter anderem Courteney Cox, Selma Blair, Meryl Streep, Julia Louis-Dreyfus und viele andere. Wie Showtime mitteilte wird es auch 2012 10 neue Folgen geben. Die Serie wurde von Lisa Kudrow selbst entwickelt und auch produziert.

| | |
| --- | --- |
| TITEL: | Cougar Town |
| GENRE: | Comedy |
| LÄNGE: | je ca. 22 Min. |
| FOLGEN: | 1. Staffel: 10 (Webserie über vier Staffeln) |
| START: | 19.07.2011 |
| SENDER USA: | Showtime |
| SENDER Deutschland: | - |
| PRODUKTION: | Is or Isn't Entertainment |
| PRODUZENTEN: | Lisa Kudrow, Don Ross, Dan Bucatinsky |
| HAUPTDARSTELLER: | Lisa Kudrow, Dan Bucatinsky, Victor Garber |
Psychotharpeuting Fiona Wallice (Lisa Kudrow) entscheided das es für eine erfolgreiche Therapy nicht nötig ist lange 45 Minütige Gespräche zu führen. Im Web therapiert sie fortan mit der Webcamera in 3 Minuten Sessions. Dabei verwickelt sich Fiona immer wieder in unangenehme Gespräche weil sie persönliche Angelegenheiten auf absurde Weise mit der Therapie vermischt.

Staffel 1-4 (Webserie):
Die Folgen der ersten vier Staffeln der Webserie können frei auf der Webseite von L/Studio angesehen werden:
Staffel 1 (Fernsehserie):
001 1-01 19.07.2011 Click to Start
Fiona Wallice (LISA KUDROW) develops a new brand of therapy for the Internet, called Web Therapy. To generate interest, she contacts an old employer with whom she's had a dicey past and takes on a client who has a highly promotable problem.
002 1-02 26.07.2011 Desparate Measures
Fiona hopes to exploit the sexual issues of her client Jerome to impress her former employer and potential investor. Meanwhile, frustrations in her marriage lead her to flirt with several men.
003 1-03 02.08.2011 Shrink Rap
After her business proposal is rejected by her mother, Fiona encounters another obstacle: Ted Mitchell, who's been hired the Lachman Brothers to evaluate Fiona's abilities - and gets more than he bargained for!
004 1-04 09.08.2011 Public Relations
Fiona begins treating a business woman who has to fulfill court-ordered therapy sessions after an incident at the office, and she soon sees opportunity to exploit the situation for the benefit of her web therapy modality.
005 1-05 16.0.2011 Shrinking & Growing
Business is booming for reasons unconnected with Fiona's expertise, but she's not complaining - until she gets a new client who has a personal connection with the Wallices.
006 1-06 23.08.2011 We've Got a Secret
Fiona's marriage crumbles when she discovers her husband's hidden life; and her mother's secret past threatens Fiona's business plan.
007 1-07 30.08.2011 Exposed!
Fiona gets her house in order by hiring a new employee, and joining forces with her husband to expose the imposter in the family nest.
008 1-08 06.09.2011 Psychic Analysis (Gastauftritt von Courteney Cox)
Fiona gets a new client: an Internet psychic who last lost her powers. Can Fiona find them?
009 1-09 13.09.2011 Whistle While You Work
Fiona's principal investor, Robert Lachman, is out of business -- yet Fiona still manages to make him pay.
010 1-10 20.09.2011 Strange Bedfellows
Fiona hits it off professionally and personally with a new client -- media mogul Austen Clarke -- until her marriage to Kip suddenly becomes much more attractive.